|audio demo|

Very realistic synthesis of shakers, rattles, and wind chimes.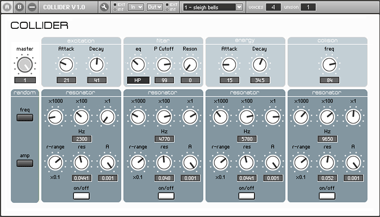 SNAPSHOTS:

sleigth bells
tambourines
maracas
egg shakers
cabasas
caxixi
rain stick
ice shacker
bamboo wind chimes
metallic wind chimes
glass wind chimes
varoious nails in plastic and carton boxes
cocoa bean rattles
manyanga sistrum
nsak rattles

ENERGY:

Attack and decay envelope of the sounds.
Attack time depends also by the midi velocity (for eg: notes played by an external midi keyboard).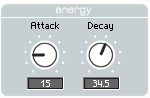 COLLISION:
Freq knob: it sets the maximum number of stocastich collisions.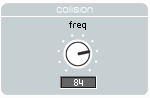 RANDOM:
Freq button: generates different frequencies for every collision event.
Amp: switch randomly on/off the resonators for every collision event.